Introducing Louise Nell, Deimos new Chief Operating Officer
Louise Nell is the Chief Operating Officer at Deimos. In this #MartiansOfDeimos series, we asked Louise a few questions about her role at Deimos and life at large.

...
20/09/2022 | 2 Minute Read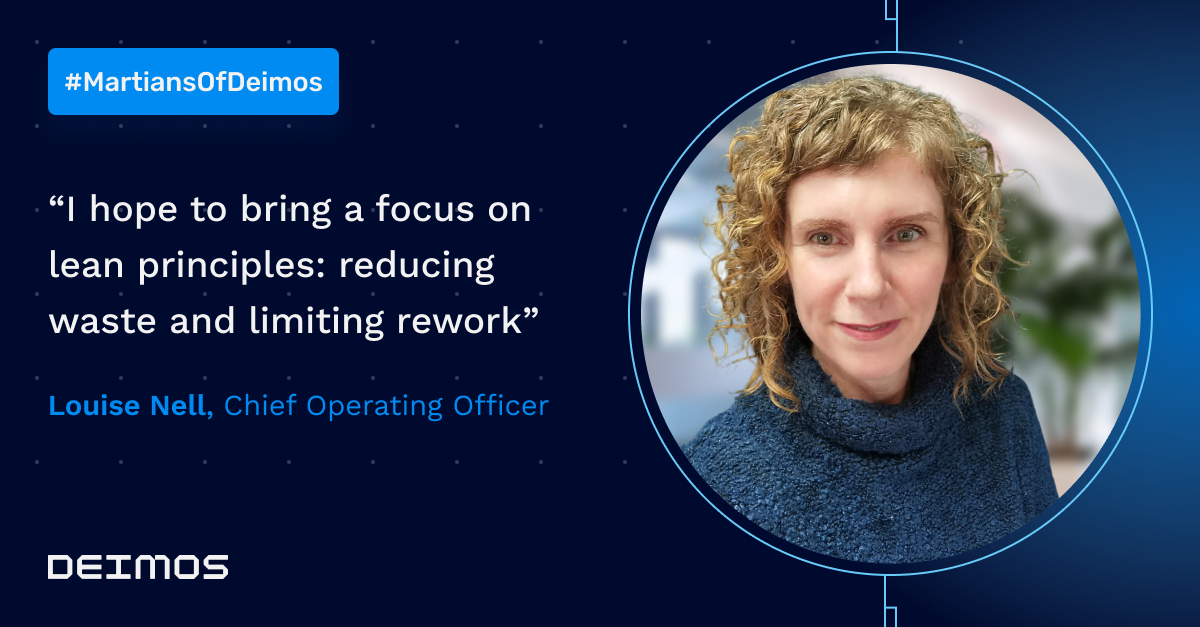 Louise Nell is a recent appointee to the COO role at Deimos. She has over 30 years of IT experience, including 18 years of software solution consulting and systems implementation experience. Her career journey has seen her serve in a number of roles, including stints as a Programmer Analyst, IT Consultant, Project Manager, and Head of Shared Services. In this #MartiansOfDeimos series, we asked Louise a few questions about her role at Deimos and life at large. 
How would you describe your role at Deimos?
The Chief Operating Officer role is about unlocking Deimos' full potential from an execution, efficiency and delivery perspective. I hope to bring a focus on lean principles: reducing waste and limiting rework being key aspects to share. I am excited to collaborate with our enablement teams as I'm now responsible for a combination of delivery, administration and people operations. I'm aspiring to bring aspects of agile execution to our broader team to further evolve the way we work.
How does your background help you in Deimos?
My background is a great fit for my current Deimos role; my career evolved across various roles within information technology over 32 years; I have worked in engineering and networking, including hardware, sales support, software delivery, solution design and consulting.  My role at Deimos allows me to tap into various aspects of my career journey: using past experiences and failures to help set our teams up for success.  
What are your hobbies?
I am a rescue dog lover; I adopted my first dog at 35, and I've been hooked for the past 15 years.  I love spending time relaxing and having fun with my dogs. My largest pack was six dogs, which I know sounds crazy. My current furry companions are Monkey, Hannah and Iggi. 
I'm an avid (dog) walker and lucky enough to live in Cape Town, close to the mountain, so I'm spoilt for choice when it comes to hiking trails. 
I enjoy cooking and preparing good food that no one suspects is vegan.
Do you do any charity work or mentoring?
I do informal mentoring for about ten present and past team members. As I move from role to role, I build relationships with people and become invested in their successes. Coaching enables us to stay in touch and tends to take the form of monthly check-in sessions where we share challenges, accomplishments, ideas and thoughts.  Looking ahead, I'll be working towards a formal coaching qualification in 2023.
LET'S CHAT
Let one of our certified experts get in touch with you